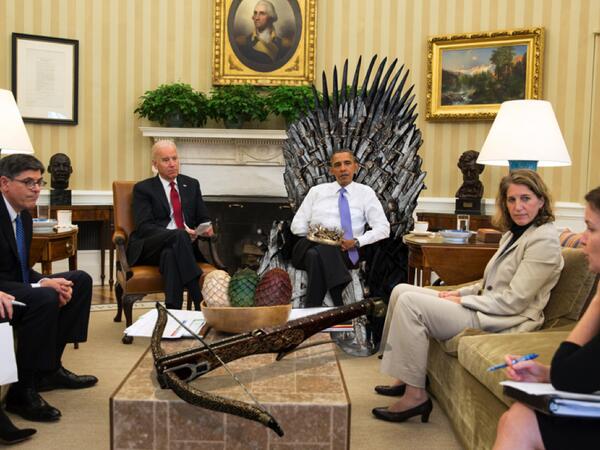 Freepers fall for the
above photoshop
.
2harddrive
thinks that throne looks familiar:
It looks like a tribal throne. African? What did ancient Kenyan thrones look like?
ctdonath2
sees what this means:
I'm sure they think it's no small praise to their messiah.
Jane Long
has gone Internet detective:
What is on his lap? A crown??? I blew it up but the resolution is not too great

Yes, it looks like a crown, to me. Like I said...delusional...and sick.
Tonytitan
thinks something's fishy about the photo...
Everyone in the room is focused on the speaker and totally ignoring all of the items. Why release a photo where no one is paying any attention to these attention-getting props?
4rcane
knows what this means!
Yea, this is coming from the Whitehouse not some comedy channel. They think of him a king
ctdonath2
realizes it's a joke, but also it is totally true:
Yeah. It's the White House that's having fun with Photoshop.

One's notion of fun can speak volumes.
BykrBayb
also goes with the "terrifying joke" attempt.
Yes, Obama presented this photo last night, thinking he is funny. It's a clear view into his depraved mind. I don't find that to be very relaxing.
petitfour
goes a long way for his joke:
Not very funny for the president of the united states to joke around using photoshop. I mean, how many believable photoshops have they put out??? Oh wait. They fake things regularly starting with birth certificates.