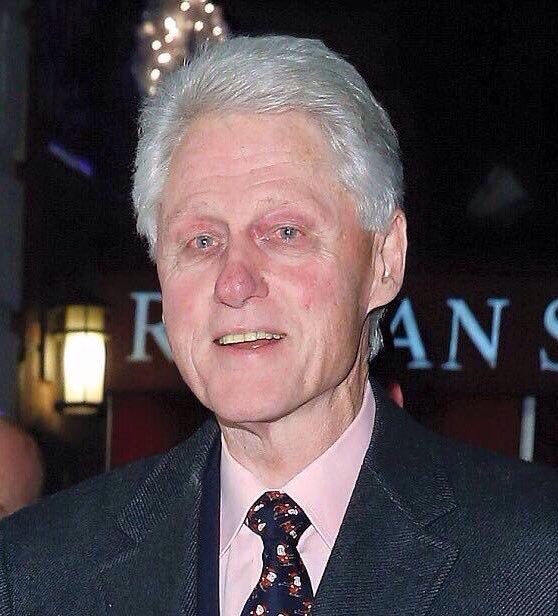 Yeesh
There's a super unflattering photo of Bill Clinton. I can't find it elsewhere, so I don't know the extent to which it's photoshopped or some other high definition trickery.
But Freepers love bad photos of people they hate; I find their childlike need for bad things to look bad to be one of their more odd quirks. Plus, they want the Clintons to die already, especially given the depraved life they assume the Clinton have read.
So here is some random thread that got derailed with Freepers
predicting, hoping, and cheering for both Bill and Hillary to die
. Until the False Flag folks break in...
Hot Tabasco
speculates about the go-to vice for Freepers, drinking.
Wow, he really looks bad in that picture. And he's only 69? He looks like someone heavily into alcohol..........
RightGeek
thinks Bill is too sinful to even care about medical science:
Untreated syphillis
WashingtonSource
doesn't bother to choose even one STD:
Looks lie death warmed over. Syphilis AIDS and antibiotic resistant gonorrhea.
savagesusie
makes the inevitable soul cite:
Good grief, he looks so sickly and evil.

His Soul is being revealed.
GilGil
has the insight that older folks take medicine:
Hillary has had a lot of coughing attacks and cannot hide them. So who dies first? Hillary or Bill.

Those two could not stay alive 24 hours without their drugs.
GilGil
thinks this has electoral moment:
With Bill looking like he is and now Hillary better just save time and swear Trump in!
Vision Thing
kinda puts Bill on a level equal to God?
Looks like God will win the battle that bill clinton has instigated against Him. Go God Go!
edh
doesn't understand how this can be real what with the Clintons' assassination powers and all:
That looks photoshopped. The Clintons would kill anyone who took a photo like that let alone released one. Maybe Bill is trying out for a role on The Walking Dead?
Eddie01
is sure this is a false flag:
The attempt to make Bill a sypathetic figure has begun.

Like putting a neck brace on your client.

"you can't say those nasty things about this poor ex-president suffering from dimensia."

Watch.
NKP_Vet
totally read somewhere about this whole story he totally hasn't made up and ends with Trump just wrecking the Clintons with sick burns!
Read somewhere that soon it'll be reported that Bill Clinton will be diagnosed with a major illness. He's 69 years old but could pass for 85. Hillary is waiting to announce it at the right political time. Will benefit her in these ways:

1) Sympathy
2) Gives her an excuse to drop out if necessary (for Biden).
3) Gives her an excuse for her inevitable lapses from the campaign trail for her own health problem. She's 68, but looks 80.
4) Gives her another healthcare card to play (I know healthcare, my husband is in a hospital right now undergoing treatment. I know how expensive and difficult it is...that's why we need Obamacare).
5) This is probably the biggest one - it allows her to play the war on women card again against Trump. Let me explain.

Right now, Hillary can't play that card because Trump says "You enabled Bill as a sexual predator." Once he's sick, she can play the whole sympathy "you are attacking a sick man in the hospital who can't even respond" blah, blah, basically it's her defense to continue her war on women narrative, which is essential to her election.

And to all this Trump will say "I am sorry to hear Bill Clinton is sick but he was not sick when you were destroying the lives of the women he sexually abused. It goes directy to your character and what you have made a history of doing to people for the last 40 years that have gotten in the way of your blind ambition and lust for power. You enabled him, you know it, and all Americans that lived through that trying time in our nation's history know it. It was horrible, and I mean horrible what you and him put those women through and are still putting them through if they dare speak out about the abuse. Their lives have been destroyed"!!
At this point, false flag delusions are far more than convenient ways to deal with cognitive dissonance; they've become an addiction turned to even when unnecessary.