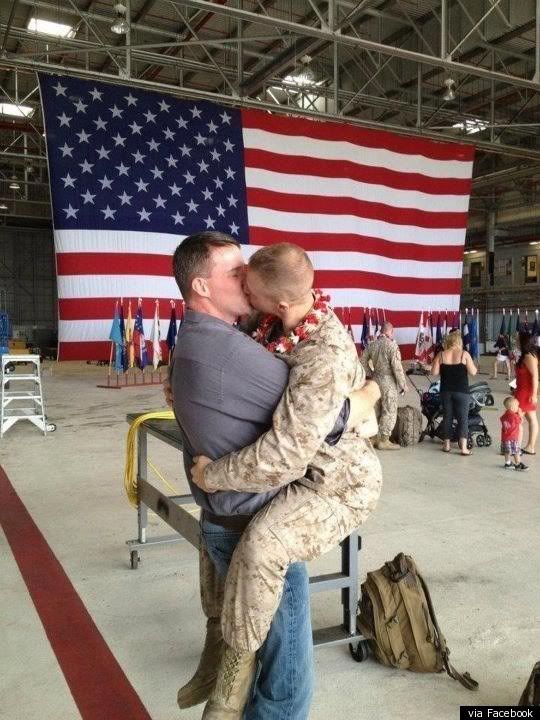 This was the last of my backlog from last week. Huzzah!
Boring gay-bashing thread? But this one has a pic, and Freepers are chidlike, visual creatures. Thus, they
dial the crazy up to 11
!
NKP_Vet
is pretty sure this is the worst America can get:
BARF ALERT. Who in the hell would have ever thought the United States of America would allow tongue-sucking sodomites in the US military.
This picture is nauseating. George Washington and the rest of the Founding Fathers are rolling over in their graves. Pray for this nation. It can't get much worse than this.

dfwgator
knows a gay dude begets other gay dudes:
What they will find out, is, just like the Catholic Church, once a gay gets into some position of power, he will promote other gays, and then they will embed themselves deep into the system by looking out for each other, until one day, it will be impossible to extract them out.

dfwgator
also hopes gay marines get the beating they deserve:
I see a "Code Red" in that guy's future.
Gaffer
thinks a gay marine is some kid of

Unstoppable

Sodomizing Machine:
Look at it this way....maybe crazy Mohamhead in the Arab street will be afraid that the Devil American Soldiers will bugger them to death of splattering their brains in a blood mist against a dirt wall.

LeonardFMason
gets a bit catty:
Is it just me or does the Marine dangling from his mans neck look like a complete LARD ASS? If he is in shape, Marine shape, then standards are sinking. LOL! look at the way his feet hang! What was he? A cook?

FES0844
gets theologically melodramatic:
God, too, must be weeping.

American Dream 246
seems a bit confused about the law:
Aghhhhhhh!!! This is disgusting!!! OUTRAGEOUS!!! And with little kids just next to them?

WHERE IS THE POLICE

???

Repeat Offender
wants more AIDS, so all gays die:
If only AIDS could spread as fast as the perverse pictures and videos of the vectors.......